Dec 10, 6:30 PM - Dec 12, 7:30 PM (2021)
(Asia/Kolkata)
Festival + Competition GLOBAL GUITAR GITA 2021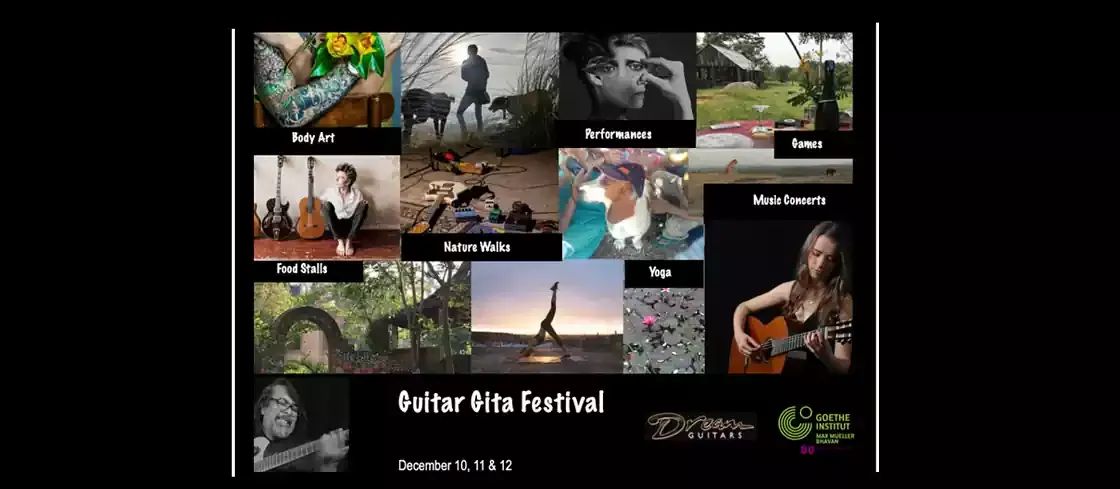 After the long dry spell of pandemic and lockdowns, Global Guitar Gita 2021 will be a chance to listen to world class musicians once again - LIVE - under the stars and in the safe outdoor environs of Infinite Souls Farm & Artists' Retreat.

Conceptualised and organised by our long-standing partner and renowned guitarist Konarak Reddy, Global Guitar Gita is a platform for guitarists, created by a guitarist. The aim is solely to expand the language and imagination of guitar playing.

Schedule:
♦ Global Guitar Gita Competition is open to guitarists of all styles and forms, from anywhere in the world.
Deadline for submission: November 15, 2021 at globalguitargita@gmail.com
Selection: November 30, 2021
Finals: December 12, 2021
*The finalists should arrange to be in Bangalore between December 10-12, 2021

The winner will be selected at the Guitar Gita Festival at Infinite Souls Farm & Artists' Retreat, Bangalore by a panel of professional guitarists including Julia Lange, Antoine Boyer and Konarak Reddy and will take home a custom Concert Series guitar, built by a master luthier at Dion Guitars and donated by Dream Guitars, North Carolina. This guitar is worth $5000.
Supported by
This festival is supported by the Goethe-Institut / Max Mueller Bhavan Bangalore.