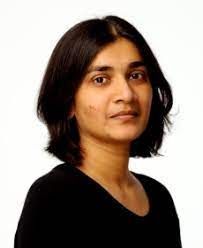 Founding Director • Science Gallery Bengaluru
Jahnavi Phalkey is a historian of science, filmmaker, and curator.
Jahnavi Phalkey was appointed Founding Director of Science Gallery Bengaluru in November 2018. Previously Jahnavi held a tenured faculty position at King's College London, and has been a Fellow at the Wissenschaftskolleg zu Berlin (the Institute of Advanced Study, Berlin). She was also external curator to the Science Museum London, and has been a Scholar-in-Residence at the Deutsches Museum, Munich.

Jahnavi is the author of Atomic State: Big Science in Twentieth Century India and has co-edited Science of Giants: China and India in the Twentieth Century. She is the producer-director of the documentary film Cyclotron. Jahnavi read civics and politics at the University of Bombay and the School of Oriental and African Studies, London. She holds a doctoral degree in history of science and technology from the Georgia Institute of Technology, Atlanta.
India
Affiliations
Attended Events
Jahnavi Phalkey on the Web
https://www.icts.res.in/people/jahnavi-phalkey
Report/Flag