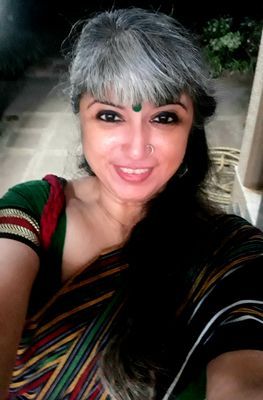 Executive Director • India Foundation for the Arts • she/her
After spending seven years in the corporate sector, Arundhati joined India Foundation for the Arts (IFA) as its first fundraiser in 2000. She assumed office as the Executive Director on June 1, 2013.

Arundhati has received recognition from several quarters for her work in the non-profit sector. In 2010 she received the Global Fundraiser Award from Resource Alliance International, the same year IFA won the 'India NGO of the Year' award in the medium category. She is a recipient of the fellowship under Chevening Clore Leadership Awards in the United Kingdom (UK) in 2015-2016 and has worked with the National Theatre, UK to recommend a strategy for their national reach. She is also a recipient of the Chevening Gurukul Scholarship for Leadership and Excellence at the London School of Economics, London in 2005. Arundhati was selected as one of the top three leaders in the city of Bangalore under the 'Lead India' campaign of The Times of India in 2008. She is a Fellow of the Salzburg Global Seminar and was their facilitator for the Young Cultural Innovators programme for five years.

She sits on the advisory panel for The Museum of Art and Photography (MAP), Bangalore and is a Board Member of Sangama, Bangalore, a human rights organisation for sexual minorities, sex workers, people living HIV, and individuals oppressed due to their sexual preference. She is a member of the Core Team that has put together a capacity building programme for theatre practitioners across the country called SMART (Strategic Management for the Art of Theatre). She was also a curator of the International Theatre Festival of Kerala 2020 (ITFOK) organised by Kerala Sangeetha Nataka Akademi. She speaks and writes on arts and philanthropy for leading Indian and international non-profit and cultural networks including On the Move, Kelola Foundation, International Federation of Arts Councils and Culture Agencies (IFACCA), The Arab Fund for Arts and Culture (AFAC), Kultura Nova Foundation, among others.

Arundhati has an Economics degree from the Presidency College, Kolkata and a post graduation in management from the Mudra Institute of Communication Ahmedabad. She also has a degree in classical dance and is a poet in Bangla.
Bangalore India
poetry theatre baking politics
Affiliations
Projects
Radbot - Aankhmaari Jaan
RadBots are an NFT collection of conversational videobots created by leading global artists. The project combines 2022's most advanced artificial intelligence, authored screenplays and Dara.network's async video-chat platform to bring fascinating AI characters to life on anyone's phone. RadBots is a radical experiment in modern collectivism and responsible crypto.

Aankhmaari Jaan is the RadBot that I worked on as part of this project. She is a twinkling livewire who lives in Mehfooznagar Bustee with her dog Pareshaani. She's very chatty and has dark secrets.

Click the link below to chat with AMJ -
Arundhati Ghosh on the Web
Report/Flag