3:44 - 5:44 PM, Oct 14 (2021)
(Asia/Calcutta)
Dialog: Showcasing TechArt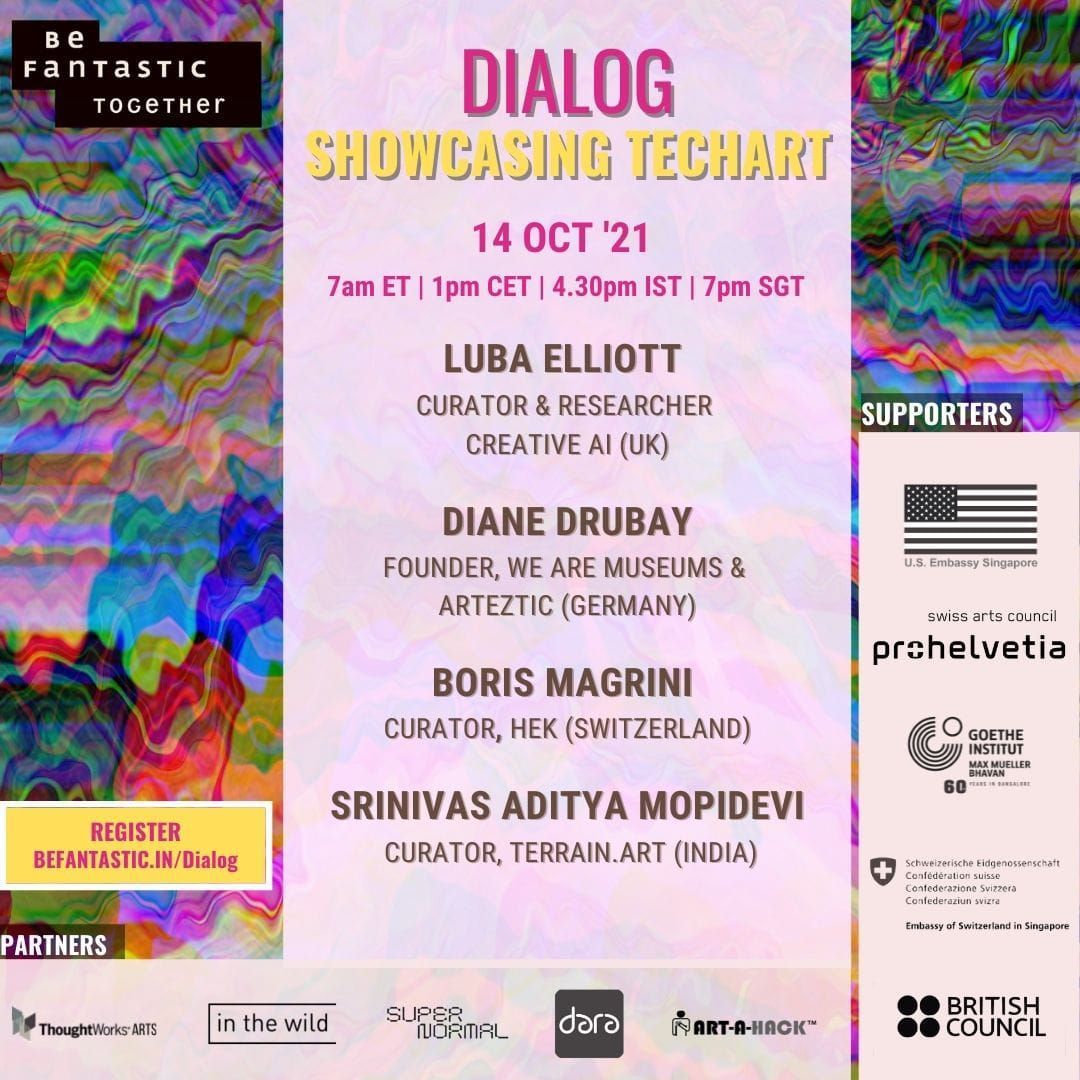 Speakers
Hosted By
The digital frontier holds very different meanings for people, each tempered by individual experiences in a space that that has seen unimagined development and proliferation in the past decade. Art events often have the capacity to introduce paradigms within these fledgling worlds that may have been hitherto unexplored by their audiences, but how might curators navigate these spaces to create experiences that can be cognizant of the latest technology and the cultural contexts of their exhibition?

Working towards a sustainable and civic-minded future for NFT art, Diane Drubay is an artist who uses photography and video to speak for the transcendental potentiality of nature. After more than a decade of facilitating pragmatic museum practices that are relevant to our times through We Are Museums, she is now at the forefront of making the blockchain-based art ecosystem a more conscientious playground for all its participants.

Luba Elliott who is a curator, producer and researcher based in the UK, who has been engaged in spreading awareness about developments in the field of creative AI . She has curated showcases like the ART-AI Festival in Leicester and NeurIPS Machine Learning for Creativity and Design Workshop.

Having held the reins of House of Electronic Arts Basel (HeK) for almost five years, Boris Magrini is one of the most prominent curatorial voices pushing the discourse around technology and art today. He has written Confronting the Machine: An Enquiry Into the Subversive Drives of Computer-Generated Art (2017), which excavates some anarchical tendencies that have motivated computer-based art practices across its brief history.

Srinivas Aditya Mopidevi is a writer and curator based in New Delhi. In the past decade, he was involved in research and curatorial projects with Park Avenue Armory, Asia Society in New York, and held positions with Devi Art Foundation, Raqs Media Collective, Jawaharlal Nehru University in New Delhi. He is currently the Curator of Exhibitions at Terrain.art, a blockchain-powered art ecosystem that aims to expand the ways of globally engaging with art from South Asia.