4 - 7 PM, Oct 24 (2021)
(Asia/Kolkata)
Going Digitalx3 - Hung Up On Handloom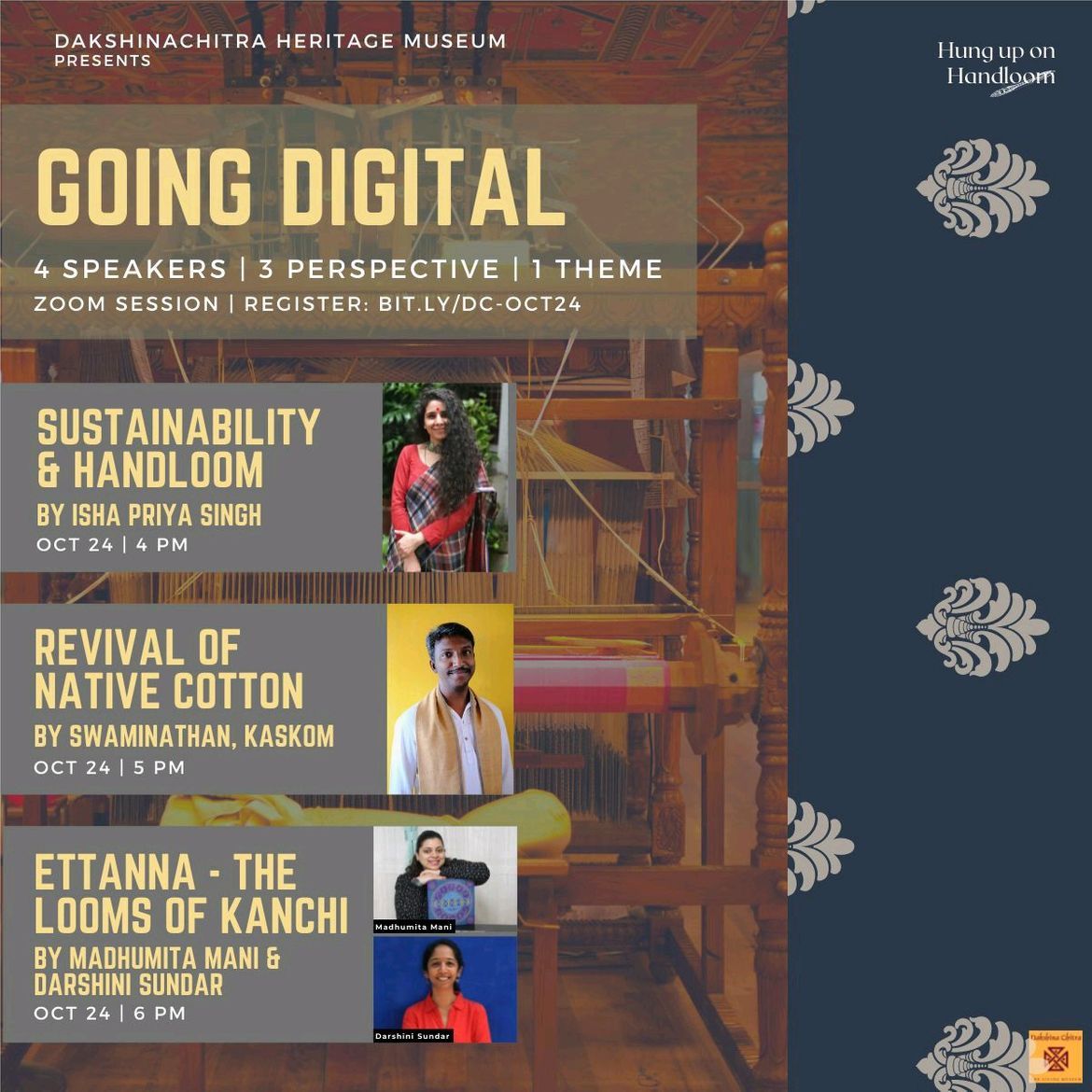 Hosted By
This time around at DakshinaChitra, we aim to question and give perspectives on handloom fabrics and the cultures that have been built around them. After a few online talks and an offline session we are in the last lap of the Hung up on Handloom series.

Join us on October 24 between 4 pm and 7 pm IST to attend three sessions where we explore and understand sustainability, process of reviving an indigenous cotton variety and gamification of Handloom.

You will be getting one link to the sessions and the talks will happen in the same session one after the other.
Oct 24 - 4 PM to 5 PM | Sustainability and Handloom by Isha Priya Singh (Desi Drapes)
Oct 24 - 5 PM to 6 PM | Revival of Cotton - Journey of Kaskom by Swaminathan
Oct 24 - 6 PM to 7 PM | Ettana: The Looms of Kanchi by Madhumita Mani & Darshini Sundar - Mad4Fun Games

About DakshinaChitra
DakshinaChitra, a heritage museum and cultural centre located at Muthukkadu, Chennai and run by the Madras Craft Foundation(NGO). DakshinaChitra is a melting pot of South Indian arts, architecture, crafts, folk performances and traditions.
Website: https://www.dakshinachitra.net/

About the speakers and the organizations are given below.

For more details, please contact Lakshmi Venkataraman - + 91 96000-85682 (Whatsapp) or programsmcf1@gmail.com for any questions.
Supported by
DakshinaChitra Heritage Museum