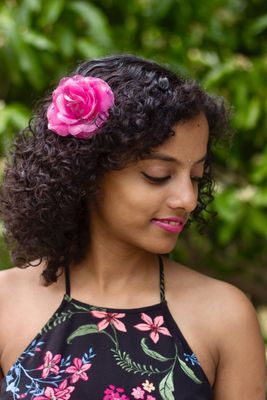 Community Enagagement Lead • BeFantastic • she/her
I am a media artist and storyteller currently based in Bangalore, India. I have an MA in Digital Direction from the Royal College of Art, London.

Coming from a multidisciplinary background, I situate my work at the intersection of art and technology. By interweaving the tactile with the virtual to tell stories, I seek to blur the boundaries between the real and the imagined. I explore the extent to which this can be expanded by experimenting with materiality along with interactivity.

My practice, greatly informed by Indian narrative structures, involves crafting interactive and immersive experiences that encourage one to pause and listen - if only for a brief moment. My recent works adopt non-binary, non-linear and decolonised approaches to reimagining, rewriting and retelling timeworn stories in novel ways.

Exploring the act of storytelling in an embodied manner is at present, the core of my investigation.

I approach my work with curiosity and play at the forefront so it is exciting to imagine where it would lead me to next.
Bangalore 🇮🇳 India
Affiliations
Projects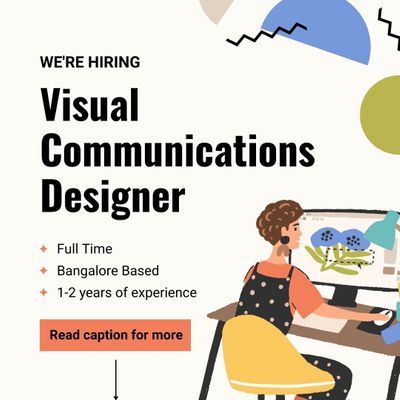 Visual Communications Designer
BeFantastic
Remote/Bangalore Preferred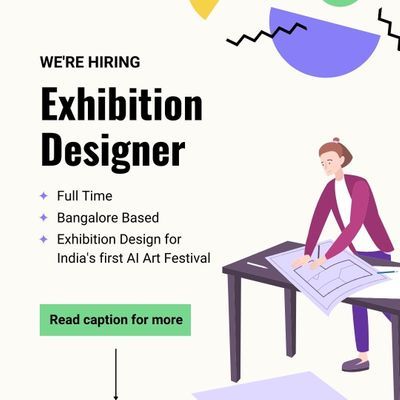 Exhibition Designer
BeFantastic
Bangalore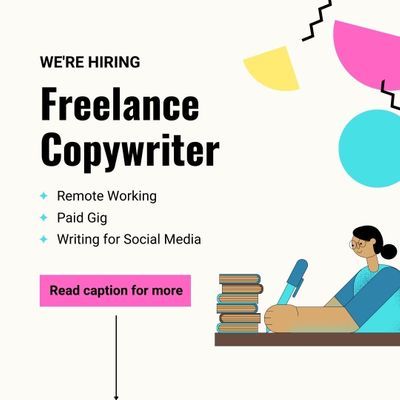 Freelance Copywriter
BeFantastic
Remote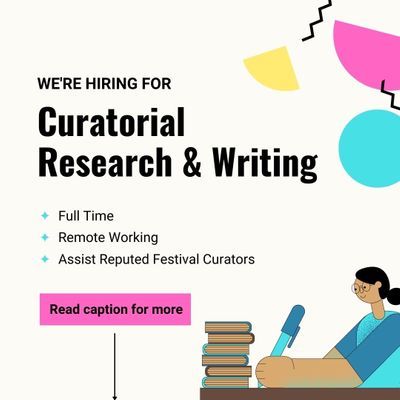 Curatorial Research & Writing
BeFantastic
Remote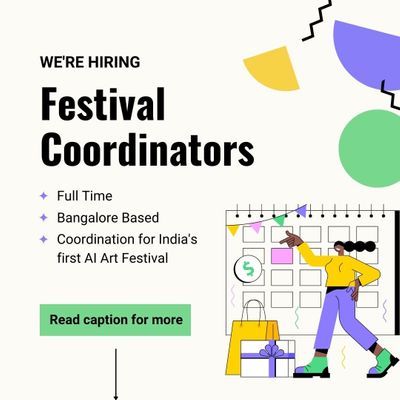 FutureFantastic Festival
BeFantastic
Bangalore, India
We are in the midst of conceptualising and preparing for an ambitious, pioneering one of a kind AI (Artificial Intelligence) Art Festival titled FutureFantastic in association with FutureEverything (UK). Scheduled for March 2023 in Bangalore, India, this festival is supported by the British Council, Swiss Arts Council Pro Helvetia and Goethe Institut among other local partners.

FutureFantastic hopes to communicate the urgency of the climate emergency by leveraging the novelty and thus the public fascination of artwork that is created in collaboration with Artificial Intelligence.

We at BeFantastic are looking to build a robust team as we forge ahead.
Jobs & Calls for Collaboration
Visual Communications Designer
Bangalore
Competitive Monthly
Our Communication Designer has to be a creature of detail with a creative hand and an organised mind. Working closely with our Visual Communications Lead and Copywriter you will juggle social media creatives, strategise visual components for our outreach and find new ways to tell our story to the world.

> Has a knack for visual communication, being able to utilise illustration and graphic design skills as the situation requires.
> Is proficient in Adobe Suite/Canva
> Has 1-2 years of experience designing creatives for Social Media/ Events/ Websites/ Newsletters/ Presentations etc.
> Is well organised, creative, detail oriented and diligent.
> Has a good grasp of the English language, and is comfortable communicating with an international community.
Exhibition Designer
Jaaga, Richmond Road, Bangalore
Competitive Monthly
We are looking for enthusiastic students and graduates to help realise our vision for FutureFantastic, an AI Art Festival that will take place in Bengaluru next year. You will have the opportunity to:

> Manifest the festival in physical space at 2 venues in Bengaluru.
> Work with premier cultural organisations locally and globally.
> Explore sustainable exhibition design, in line with the festival's focus on climate change.
> Receive mentorship from the team that comprises of leading designers and artists who have been immersed in the field of innovation of art-making and showcasing
> Design the space keeping in mind the audience experience.
> Think through the accessibility needs of the exhibition under the guidance of Access for All.

Start Date & Duration: 1st October 2022 – 30th April (7 months)
Commitment: Full time (with the possibility of working some weekends)
Experience: 1-3 years, prior festival experience will be looked at favourably.
Freelance Copywriter
Remote
Are you someone who:

-Has a way with words in English.
-Can research complex ideas.
-Is sensitive to social and environmental discourses.
-Can express their ideas with brevity and panache.
-Can work well with feedback.

This is a remote freelance opportunity where you will be working closely with our Communications Designer.

You will be expected to write captions for approximately 10 posts and contribute towards crafting around 5 interactive stories on Instagram on a weekly basis.
Festival Coordinators
Bangalore, India
Competitive Monthly
Do you (and others around you) consider yourself efficient, detail oriented and meticulous?
Are you excited by the mood of innovation and the culture sector of Bangalore?
Do you want to be part of a dynamic yet thoughtful team, who treads this nascent space with a sense of exploration?

We are looking for festival coordinators to take up one of the following tasks:

Curatorial Management: (Artists & Speakers): Work closely with the Curatorial Team to handle travel, hospitality, artwork requirements, schedules and festival design details, enforcing legals & contracts etc

Partner Management: Work closely with the Festival Director in bringing in new partner relationships and ensuring they are nurtured including setting up meetings, post meeting follow ups, ensuring legals & contracts etc

Student Program Management: Liaise with educational institutions, assist in delivering student programs (MOOCs, Hackathons) & coordinate with partner organisations for the same.
Curatorial Research & Writing
Remote
Competitive Monthly
We are on a mission to make the need for climate action comprehensible for general audiences through TechArt. Towards this goal we need a conscientious writer with a finger on the pulse of social media to carry our message to the world at large.

The role reports to the FutureFantastic festival curators both local and international and will involve the following tasks:

> Curatorial Research (Identifying artists and organisations relevant to our theme of AI & Climate Change)

> Curatorial Writing (Crafting concept notes, newsletters, project reports, proposals, event descriptions & well researched social media posts)
Member of
Attended Events
Karthika Sakthivel on the Web
https://www.behance.net/karthikasakthivel
Report/Flag