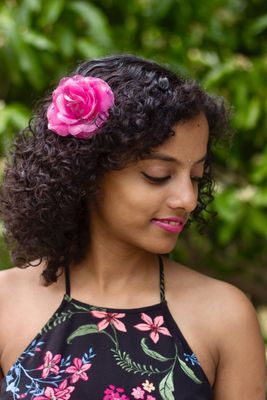 Community Enagagement Lead • BeFantastic • she/her
I am a media artist and storyteller currently based in Bangalore, India. I have an MA in Digital Direction from the Royal College of Art, London.

Coming from a multidisciplinary background, I situate my work at the intersection of art and technology. By interweaving the tactile with the virtual to tell stories, I seek to blur the boundaries between the real and the imagined. I explore the extent to which this can be expanded by experimenting with materiality along with interactivity.

My practice, greatly informed by Indian narrative structures, involves crafting interactive and immersive experiences that encourage one to pause and listen - if only for a brief moment. My recent works adopt non-binary, non-linear and decolonised approaches to reimagining, rewriting and retelling timeworn stories in novel ways.

Exploring the act of storytelling in an embodied manner is at present, the core of my investigation.

I approach my work with curiosity and play at the forefront so it is exciting to imagine where it would lead me to next.
Bangalore 🇮🇳 India
Affiliations
Projects
Jobs & Calls for Collaboration
Communication Designer
Work from Home
INR 40,000 Monthly
Our Communication Designer has to be a creature of detail with a creative hand and an organised mind. With juggling social media creatives, strategising the visual components for our outreach and finding new ways to tell our story to the world you will not have a dull moment through our action packed days.
Member of
Attended Events
Karthika Sakthivel on the Web
https://www.behance.net/karthikasakthivel
Report/Flag