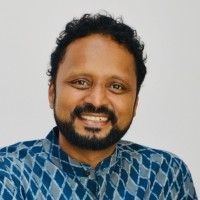 Managing Director • Vista Equity Partners
Bala has over two and half decades of global experience in technology & business. An entrepreneur and an author, he has founded three startups and is an advisor to many startups and venture funds for over 10 years. He has also contributed to many books.

Bala is the President of Techstars India - the world's leading platform for startups & innovation, Prior to that Bala was the Managing Director at Microsoft Accelerator India, Microsoft's flagship startup program. His previous experiences include leading innovation at Yahoo, enterprise products at Oracle, and a partner in a global management consulting & research firm.

PROFILE
Entrepreneur, advisor, author, and techno-business leader with global experience

BUSINESS COMPETENCIES
- Leadership: Building, leading & coaching high performance, cross-functional teams

- Management: Building business from concept to launch and scaling it globally.

- Strategy: Developing & executing market winning strategies, packaging, positioning, messaging, branding, pricing & go-to-market strategies

- Innovation: Building an innovation culture, programs and generating measurable impact

- Marketing & Brand Building: Campaigns, lead generation, events, promotions, online & social media marketing; managing industry analysts, trade bodies, media & public relations

- Ecosystem & Business Development: Building an ecosystem of partners, alliance, developers and startup relationships

EXPERIENCE PROFILE
- Entrepreneurship & start-up experience in bootstrapping businesses from ground up.
- Business strategy, M&A assessment & fund raising
- Expertise in enterprise applications including CRM, ERP, SaaS, On-Demand & business portals
- Experience in CRM, Consumer Internet, Enterprise Application, Platforms and Information Security domain.
- Technical expertise in Web, RIA (Rich Internet Applications) & open source technology.

Specialties: Executive & Business Management, Business & Product Strategy, Business Coaching, Innovation, Marketing, Customer Relations, CRM, E-Commerce, Information Security, Partners/Alliance relations, Media, PR & Trade body relations, Innovation, Ecosystem Development

Bala keynotes at events on topics ranging from entrepreneurship, business disruption, innovation, and building startups. He has contributed chapters in the books "Wiley's Black Book Enterprise 4.0" and "Do More Faster" India edition. Bala also talks about Indian History & Culture in his YouTube channel.
Bangalore India
Affiliations
Bala Girisaballa on the Web
https://www.linkedin.com/in/girisaballa/?originalSubdomain=in
Report/Flag