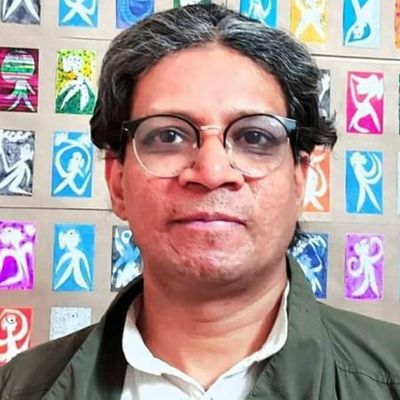 Assistant Professor • Banaras Hindu University • he
Suresh K Nair was born in Kerala, India. Suresh has studied from Institute of Mural Painting, Guruvayur, Film and Television Institute of India, Pune and Visva Bharati University Santiniketan, and an alumna of Tyler School of Art, Temple University, Philadelphia, US. As a Muralist he has acquired a major presence in art spaces both in India and abroad for his Public Art. He exhibited his works both in Indian Cities and Foreign Cities. He travelled UAE, UK, USA, Nepal, Bangladesh for his art.

He has been awarded the Kerala Lalithakala Akadami award ( 2005) from the government of Kerala, Elizabeth Green Shield Scholarship, Canada (1997) Fulbright Fellowship ( 2005- 06) and Earth Day network award (2015 and 2018) from Washington along with various arts exchange programs and research projects.

Nair did music based drawing performance at TEDex IIT, Banaras Hindu University on the theme of "Order and Chaos", Carnival of Creativity (CEC) at the North Eastern Hill University, Shillong, Meghalaya, Kabira Festival in Varanasi and recently he participated "OVNI International Art Project- Mural Urbano" and performed with Portugal Musician Joana Rodrigues at Caldas de Rainha at Portugal, and Suresh participated major Festivals like Banaras Uthsav, Kabira Festival, Jaipur Literary Festival, Jaipur Kala Chapel, Druv Festival, Barbil Art Project and recently in Hyderabad Literary Festival.


Suresh Specialized both Indian and Western Mural Techniques and executed Monumental Mural in public and private spaces. He got interested in Calligraphy traditions of Chinese, Japanese, Islamic and Indian and done some experimentation through his music based drawings.
Through his art Suresh addressed significant social issues like Environment, Plastic Pollution, World Peace, Partition and Migration issues through his Art, Activism and Art Performance.

He has contributed to the community awareness in his recent art practices and contributed to cleanliness drive through artistic means, he also member of INTACH and other cultural organisations.

Suresh is currently teaching Visual Art in the Department of Painting, Faculty of Visual Arts, Banaras Hindu University, Varanasi, India.
Varanasi India
Digital Art, Animation, Film, Theatre, Video Art, Performance Art, Music.
Affiliations
Projects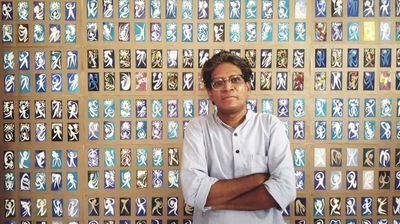 Public Art Project
Public Art Project
Banaras Hindu University
Varanasi
My art works are original and support sustainable art, students, artists and community.
Jobs & Calls for Collaboration
Artist And Designer Researcher
Any Cities In India Or Abroad
Technical supports and the space for the Public Art
Attended Events
Suresh K. Nair on the Web
sureshknair.com
Report/Flag