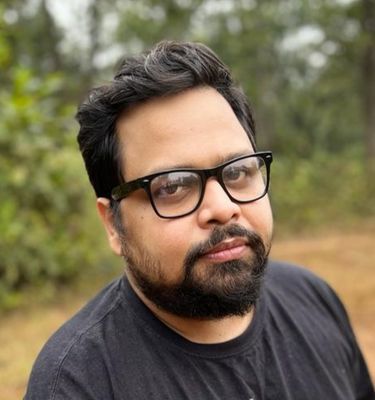 Program Manager, ProducerLAND • The Storiculture Company • he/him
I am an arts manager, curator, film historian and theatre producer. I did my MA in Film Studies from Jadavpur University and an advanced degree in Cultural Studies from Centre for Studies in Social Sciences, Calcutta. I was a Global Cultural Fellow (2017-2018) at the University of Edinburgh.

I am a program manager with The Storiculture Company that produces film and other content and works for producer development. I am a guest lecturer at COMMITS, Bangalore and one of the founding trustees of Mudran Foundation, West Bengal. I was the Executive Director of Indian Ensemble and a Senior Programme Officer with the India Foundation for the Arts. I have worked with the Jadavpur University, Kolkata in various capacities. I have experience of working with film, television and ad agencies, taught film and media studies in India and Bangladesh, and helped curate various film festivals. I was one of the editors of the graphic art magazine Drighanchoo. I occassionally work with TENT art space, Kolkata and listen to space sounds in my free time.
Kolkata India
Film, Theatre, New Media, Sound, Graphic Novel, Science Fiction
Affiliations
Projects
Radbot - Baangmoy
RadBots are an NFT collection of conversational videobots created by leading global artists. The project combines 2022's most advanced artificial intelligence, authored screenplays and Dara.network's async video-chat platform to bring fascinating AI characters to life on anyone's phone. RadBots is a radical experiment in modern collectivism and responsible crypto.

Baangmoy is the RadBot that I worked on as part of this project. He is a progressive, sarcastic and inquisitive but nice person. He was born in 2060 and is 20 now. Committee considered him Fringe and sent him back to 1990 to learn from history. He is rebellious sometimes and hates the right wing. He has secrets.

Click the link below to chat with Baangmoy -
Attended Events
Shubham Roy Choudhury on the Web
shubhamroychoudhury.wordrpess.com, jdvu.academia.edu/ShubhamRoyChoudhury
Report/Flag