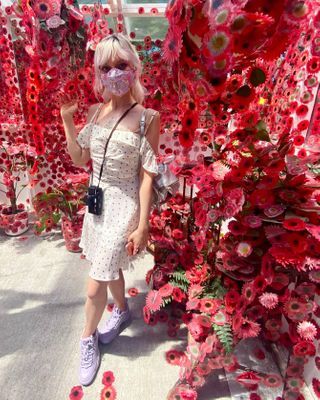 A. Morgan McKendry (they/them)
morgan | VJ | visual artist | independent curator/writer • they/them/theirs
My artwork, both visual and cerebral, is about imagery and what images mean; the coded structures embodied, inherent. From this, I work to address the meaning(s) of what is shown and then subvert them through rendering differently, working in order to find parallels either blatant or conceptual. I source from various obsessions including cartoons, anime, fashion, video games, film, memes, to that of famed art historical works and/or critical theory. Much of my work is seeded in reappropriating visuals to create different narratives outside of power hierarchies, suspended from reality & keenly interested in the implications of technology on perception, experience, and artistic medium. Working between multiple programs, screens, and files - layering to at once address the latent meanings within the samples, whether still or moving, while weaving an abstracted realm free of such earthly confines of gravity, falling past the expectations of the real.
Brooklyn, NY USA
Projects
Fairy Angels
Process:
This collection was made with the assistance of artificial intelligence and machine learning. For this piece I used Midjourney to generate characters, concepts, and environments. From the AI outputs, I moved into DALLE-2, generating and remixing even further. Then, I moved into digital collage and painting, editing, and further refining of this piece between photoshop and clip studio. The resulting collection is the remnant of human and machine working together, influencing one another, and augmenting creativity.

Narrative premise:
You discover field research from an anonymous folklore and mythology PhD candidate. Is it possible...that there lies a world parallel to our own? Follow their journey through the land in-between.

Available on Tezos blockchain.
https://objkt.com/collection/KT1JvKAKMUn1Meyc3UCBJBv8ozSQZGBPBtkk
Augmented Assemblage
"Jabberwocky" (unminted) This is a new work that expands my artistic practice of 'digital assemblage'; evolving with growing tech, I am dubbing these as 'augmented assemblage'. I often reference Alice in my work as a parallel to the experience of growing up with the internet and changing technologies, falling down the rabbit hole(s) of digital experience. "Jabberywocky", 2022, 17"x22", Augmented Assemblage: Between Midjourney and DALLE-2 I generated around 400-500 images. I then digitally remixed through collage and painting with Photoshop and Clip Studio Paint.
https://twitter.com/slimeycryptid/status/1559409010142478336
HYP3R-R34L (2022)
Miitomo was a Nintendo mobile app game that was deactivated back in 2018 due to a lack of moderation and pervasive abuse of and on the platform. However, it is possible to use fan patches to access this game with android phones or 'jailbroken' iphones. I really wanted to have something that deviated very far from the typical options available for text-to-speech. Miitomo not only offers customization of avatar/character/mii in appearance but also with vocals. I created a character that I feel is representative of me but also one that I think sounds rather ridiculous which is exactly the effect I wanted as I knew I wished to use screen recordings from this mii to create artworks.

For this project, I gave short prompts to text generative model AI/ML GPT-J. The AI interpretations provided surprises and delights in how wondrously strange they would derail from the original source. Working from this, I used Miitomo's answering of questions mechanic and then screen recorded my character in all their shrill glory. Screen recordings were then remixed into new pieces.
ourlives.are/underwater (2019-Present)
Many of my video-jockey loops that I create subtly reference technology's relationship to water and humanity's dependence upon them. Internet cables are submerged, lining ocean's depths, our data housed in massive servers in the sea; our digitally mediated lives placed where our species emerged from, in the ocean. Our lives, enmeshed in technology and our devices, our presence(s) extended to the Internet; underwater, where our world is slowly seeping back into due to the crisis of climate change. It is my hope to further develop this project through this fellowship.
https://drive.google.com/file/d/1fOcmzK39v9YsIG4D9NloU-dbcPfnRkw6/view?usp=drivesdk
AI & ML (2020/21)
I have a series of GIFS I created through experimenting with the use of machine learning on platform. I fed their AI video stills from my VJ library to mimic the style. The output from this were still JPEGS, rendered with a similar style based on the still images I 'fed' the AI - an amalgamation composite, that I then turned into GIFS that I can now use with live video mixing. I'm interested in exploring how to streamline a process like this and other ways I can work with AI or generative coding in my art practice.
slimebubble
slimebubble is a frequent video-jockey within the underground music scenes/communities of Boston, D.C., and Brooklyn. slimebubble is the persona of independent curator, and multidisciplinary artist A. Morgan McKendry.
Boston, DC, NYC
Æther (2018)
Æther was created by Donnie Martin (DOHMA), Alexan Maximillion Mardigian (AlexXxan), and A. Morgan McKendry (slimebubble) in an effort to converge the forces of art, technology, video, music, and performance. This was a weekly ambient, downtempo, lo-fi, dub-techno party occuring every Wednesday throughout the Summer of 2018 in Cambridge, MA. It went on hiatus when founding members moved to other cities for professional & creative pursuits. slimebubble was the resident VJ contributing specially created video content & performing live each week. They worked promoting the party as the marketing lead and as graphic designer. DOHMA contributed as not only a resident DJ and booker but also as an excellent musician playing his originally produced tracks alongside intricately made sets that he would weave even further magic into with his electric violin and analog tools. AlexXxan worked wizardry as a resident DJ casting delight each week with his jubilant demeanor and tunes.
Cambridge, MA
Effervescent nights lead to jubilant mornings. We seek warmth in a chaotic world through lush vibrations with an artistic twist; the chameleonic Æther holds no defined state of sound. This future we strive for envelops us, the future is in the Æther.
Member of
Attended Events
A. Morgan McKendry (they/them) on the Web
amorganmckendry.com
Report/Flag