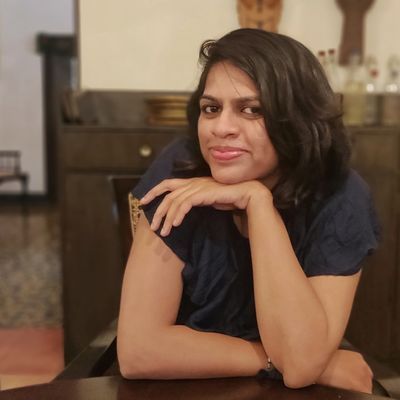 Arts Manager, Researcher & Writer • Freelancer • she/her
Data | Content | Marketing | Arts | Culture | Heritage – Each is a beast in its might.
I just simply happen to work across all of them to bring you
Impactful Content Creation | Unique event curation and execution | Holistic Research and Data Interpretation

After trying my hand at finance for three years after my MBA, I decided to quit and plunge into writing and arts management in 2018. There was no looking back. The rigour of corporate, coupled with working with multiple clients and artists simultaneously, came with many learnings, smiles and challenges.

I picked up skills along the way - project management, database creation and management, content strategy and execution, budgeting and financial modelling, Working with Data, Event Management, Crisis Management, and conducting research interviews and interpretations.

I wear different hats and discover from each of my interactions to come up with out-of-the-box creative solutions for everyday problems that my clients have.

Writer: I help you craft the perfect copy to persuade and convert your prospects through focused content curation that generates trust and familiarity.

Arts Manager: I help you co-curate, execute an event (digital, physical or phygital) or market your event to reach your target audience through conventional and unconventional ways.

Researcher: I borrow some knowledge from many fields, which comes in handy while looking at data, and interpreting them. Across primary and secondary research, my curiosity would bring you unexpected perspectives on the commissioned studies.

I also offer services in creating memorable presentations and simple automation for your everyday organizational tasks.

Let's talk about how you can focus on your business, organization or artistic practice as I handle these services for you!
Chennai | Bengaluru India
Arts marketing, Impact and Research, programme curation and execution
Member of
Attended Events
Lakshmi Venkatraman on the Web
www.lakshmiv.com
LinkedIn Profile
Report/Flag